Don't Ignore Your Moldy/Dirty Roof!
Mold can be a serious issue for several reasons. For one, you do not want mold anywhere near your house, inside or out, especially if you are elderly or have young children. But also as important, mold can cause severe damage to your roof if left untreated. There is a right and wrong way to clean your roof, and using bleach or pressure washing is definitely the wrong way.
Having your roof treated actually makes sense….  It isn't just aesthetics. While people like to say that dirty roofs lower a property's value and may make it hard to sell, the "dirt" on a roof actually shortens its lifespan and can even present a health hazard. Furthermore, the "dark stains" on a roof act as a sponge to absorb the sun's heat, which causes a rise in the temperature inside a home or building, creating higher air conditioning bills."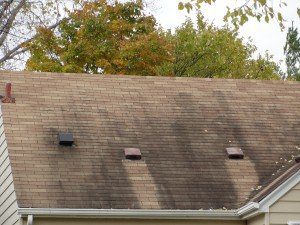 Roof Restoration Experts!
Roof preservation treatments eliminate outdoor mold, mildew, moss, lichen and algae.